Prawns Biryani ( Prawns Biryani in a pressure cooker)
Prawns Biryani is a one-pot recipe, Biryani is a dish which is made or cooked by mixing rice with any nonveg curry, Biryani is popular and liked by everyone in India. it needs less time to make, and also includes fewer ingredients.
The prawn's biryani is very tasty and cooked frequently. In Maharashtra, this recipe is known as the Kolambi bhaat recipe.
Prawns Biryani  Recipe Nutrition
Prawns Biryani Recipe includes 295 calories
Carbohydrates: 35 g.
Proteins: 7 g.
Fat: 17 g.
2,000 calories are the total daily calorie required for a standard adult diet.
Recipe Ingredients for making Prawns Biryani
Prawns 1kg
Basmati rice 2 cup's
Ghee 3 tbsp
Oil 2 tbsp
Cinnamon 2
Cloves 4
Cardomom 2
Bay leaves 2
Star anise 1
Onions 4
Grounded paste 2 tbsp
Tomato 3
Salt to taste
Coriander powder 2 tsp
Turmeric powder 1 tsp
Red chili powder 3 tsp
Coriander leaves
Mint leaves
Coconut milk 2 cups.
Tips for making Kolambi bhaat recipe
Make use of fresh prawns.
Use good quality basmati rice.
Adjust the quantity of grounded paste as per the number of prawns and rice.
Make the grounded paste fresh when you are making the biryani, it well enhances the taste of a dish.
Make fresh coconut milk.
I am making this recipe in a pressure cooker, you can also make it in a heavy bottom vessel.
Process before cooking the recipe
Take a bowl, add 2 cups of basmati rice in a bowl.
Wash the basmati rice 2 to 3 times nicely.
Then in enough water soak the rice for 30 minutes.
Clean the prawns.
The process to clean the prawns ( How do you wash prawns before cooking)
Remove the head, tail, legs, and also the shell of the prawns.
Then take it in a bowl and rinse each prawn properly with water.
Rinse it 2-3 times in clean water, then drain the water and you can use it.
If you are using frozen ones then let it come to room temperature then clean it.
If you like curry with the shell then you can keep it.
How to clean the prawns without removing shells
You just need to cut the head and tail of prawns, make use of scissor
Then with help of a toothpick remove the tread from the inside.
After cleaning all of them, then take it into a bowl and rinse it with water.
Rinse it 2-3 times in clean water, then drain the water and you can use it.
Marination of prawn
Take the cleaned prawns in a bowl.
Add 1 tsp of salt and turmeric powder.
Then add 3 tsp of red chili powder and mix everything together.
Marinate the prawns for 30 minutes.
Now we will make the fresh paste for the biryani
Take 10 garlic cloves, 2 inches of ginger.
Then take 10 shallots and add 1 tbsp of grated coconut.
Add 4 green chilies and 4 red chilis.
Then add few mint leaves and coriander leaves.
Add little water and blend it to a smooth paste.
The fresh masala paste is ready, keep this aside.
Chop onions and tomatoes.
Process for cooking the recipe
1. Heat Pressure Cooker, add 3 tbsp of ghee.
2. Add 1 tbsp of oil.
3. Then add 2 Cinnamon, 4 Cloves.
4. Add 2 Cardomom, 2 Bay leaves, and 1 Star anise.
5. Now add 4 sliced onions, cook until it's golden brown.
6. So now we will add the ground masala paste.
7. Cook the masala and onions on low flame for 2 to 3 minutes.
8. Add 3 chopped tomatoes, mix and cook until the tomatoes are soft.
9. Add 1 tsp of salt, 2 tsp of coriander powder.
10. Now add fresh coriander leaves and also mint leaves.
11. Mix and saute for a minute.
12. Then add the marinated prawns, mix everything together.
13. Add 2 cups of coconut milk.
14. Now strain the soaking basmati rice and add them to the mixture of prawns.
15. Gently mix the rice along with the prawns.
16. Then close the lid of the pressure cooker and cook it for 8 minutes on medium-low flame.
17. After 8 minutes wait for the pressure to realize from the pressure cooker, then open the lid.
18. Then transfer it to a plate, garnish with some coriander leaves.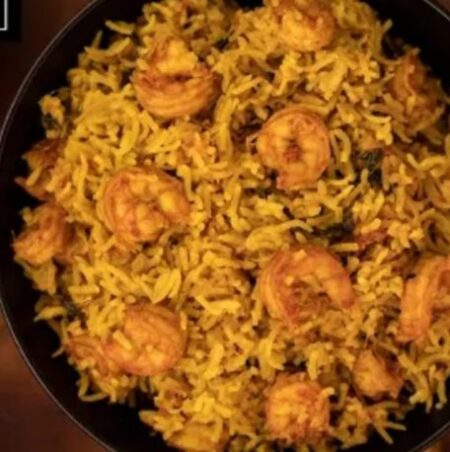 Serving tips
Serve the delicious prawns biryani with salad.
Preparation of salad (rayata)
Chop onions, tomato, green chilies, cucumber, in small pieces.
Then add curd, salt to taste, a little bit of chat masala.
And a pinch of sugar mixes it well.
The fresh salad is ready to serve
For making the salad tastier we can add fresh cream to it.
Prawns Biryani
How to make Prawns Biryani
1 kg Prawns
2 cup's Basmati rice
3 tbsp Ghee
2 tbsp Oil
2 no Cinnamon
4 no Cloves
2 no Cardomom
2 no Bay leaves
1 no Star anise
4 no Onions
2 tbsp Grounded paste
3 no Tomato
to taste Salt
2 tsp Coriander powder
1 tsp Turmeric powder
3 tsp Red chili powder
Coriander leaves 
Mint leaves 
2 cups Coconut milk
Read More:
Best Tawa Prawns Recipe in 2 different ways