1. Buda Castle
Do you know one of the main reasons people travel to Europe is to explore castles? Hungary has about more than 100 palaces and castles. Many of them were destroyed, but there is plenty of castles to admire and explore which are open to tourists. Buda Castle or Buda Hills is an ideal spot for a romantic walk in all seasons. It can be a great visit for history-loving couples. At the top of Buda Hills lies Buda Castle. The castle has foliage that turns beautiful shades of orange in autumn. It is surrounded by attractive walkable cobbled streets, where you can get a wide range of streetside cafes and restaurants. The castle also has Castle Museum. If you want can take a guided tour with a local historian.
2. Hungarian State Opera
Hungarian State Opera is originally known as the Hungarian Royal Opera House. It was built by architect Milos Ybl, as the opera house has the most amazing paintings and sculptures done by artists Bertalan Szekely and Mor Than, Karoly Lotz. This opera house is one of the city and country's leading cultural institutions. Hungarian State Opera is considered to be amongst the finest opera houses in the world for theatre, music performances, orchestral, and ballets. This opera is a richly decorated building and is considered one of the architect's masterpieces. Hungarian State Opera has hosted some of the most important and amazing conductors, musicians, and performers of history.
3. Gellert Hill Cave
Gellert Hill is located 235 meters high, this cave is also referred to as Saint Ivan's Cave. The Gellert Hill Cave is built into rocks, it is the most beautifully simple and peaceful spot. This place is an equally spiritual and romantic place. Gellert Hill may give you a different experience like hiking, a romantic trip, or quiet historic buildings to capture a sunset or sunrise views. This can be a lovely spot to visit from where you can watch as the city comes to life.
4. Visit the Thermal Baths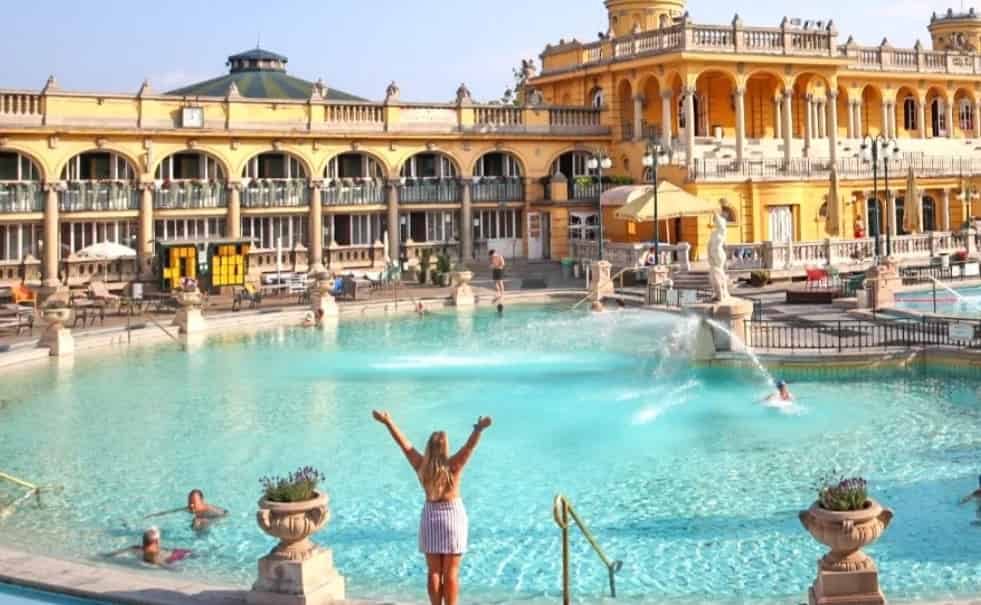 The thermal baths offer a unique spa treatment, in this place you can actually spend hours together getting pampered and treatments. There are more than 120 in Budapest and more than 1,300 thermal spring waters around, some of the baths are hundreds of years old. Budapest city offers several baths the most popular thermal baths include Gellert Thermal Bath, Rudas Bath, and Szechenyi Thermal Bath. The Gellert offers truly luxurious surroundings with amazing patchwork tiles along the walls and floors in a historical Art Nouveau architectural style setting. On the other hand, Szechenyi offers the largest natural hot spring baths in Europe, there are around 18 thermal pools indoors and outdoors. One can experience a full spa on-site with massages and other pampering treatments as well at Szechenyi. You can also experience and make your date night even more romantic by booking a private couple's thermal pool.
5. Danube River cruises
Danube River cruises provide a wonderful romantic experience exploring the city from the Danube River, noticing the bridges, and castles. You will get to experience the Parliament building, Dracula's castle, and Fisherman's Bastion. The Danube River cruises give stunning views of the river, even you can appreciate the idyllic landscape without actually going anywhere. You can experience being on cruises with just about any timeframe or budget. It can be a fully luxurious outing with music and dinner. Whether behind the comfort of the glass or seated on the open-air deck cruising down one of Europe's most famous rivers is a great way to see Budapest.